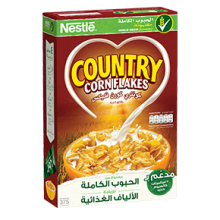 Ingredients
Maize Semolina, Sugar, Barley Malt Extract, Salt, Glucose Syrup, Acidity Regulator: Trisodium Phosphate, Antioxidant: Tocopherols

Vitamins and Minerals: Vitamin C, Niacin, Pantothenic acid (B5), Riboflavin (B2), Vitamin B6, Thiamin (B1), Folic acid (Folacin), Vitamin B12, Calcium and Iron.

Free from pork products and their derivatives.

May contain traces of Peanut, Almond, Milk and Gluten (from wheat).
Available Size/s
1kg, 375g, 500g, 700g