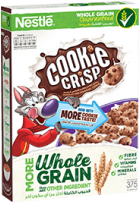 Ingredients
Cereal Grains (Whole Grain Wheat, Maize Semolina, Wheat Flour), Sugar, Glucose Syrup, Wheat Starch, Fat-Reduced Cocoa Powder.

(2.2%), Vegetable Oils (Palm Oil and Sunflower Oil), Natural Cocoa and Vanilla Flavors, Salt, Cocoa Powder, Acidity Regulator: Trisodium Phosphate, Raising Agent: Sodium Bicarbonate.

Vitamins and Minerals: Niacin, Pantothenic acid, Vitamin B6, Riboflavin (B2), Thiamin (B1), Folic acid (Folacin), Vitamin D, Calcium Carbonate, Iron.

Contains Cereals containing Gluten.

May contain traces of Milk, Almonds, Peanuts and other Nuts. Free from pork products and their derivatives.