Product Info and Benefits
Product Info
Perfect Balance of authentic spices, as good as homemade.
Ingredients and Sizes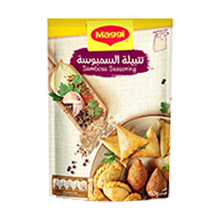 Ingredients
Natural Dried Vegetables (Onion, Garlic, Parsley, Fennel), Wheat Flour, Natural Herbs & Spices (Cumin, Coriander, Black Pepper, Cardamom, Chili Pepper, Cinnamon, Clove, Marjoram), Iodized Salt, Yeast Extract, Non-Hydrogenated Oil (Palm). Contains Gluten. May Contain Eggs, Celery, Milk & Soy.
Nutritional info
| | |
| --- | --- |
| NUTRITIONAL INFORMATION | Average Composition* |
| Calories (kcal) | 241 |
| Total Fat (g) | 5.7 |
| Saturated fat (g) | 1.4 |
| Sodium (g) | 6.66 |
| Carbohydrates (g) | 35.2 |
| Dietary fibre (g) | 17.2 |
| Total Sugar (g) | 5.6 |
| Protein (g) | 12.4 |