INGREDIENTS
Jazar Halwa
with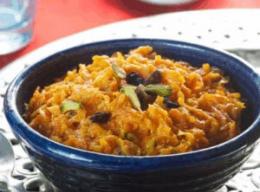 10 medium Carrots
1.5 cups Milk
1 tin NESTLÉ Sweetened Condensed Milk
2 tablespoons Ghee
1 cup Pistachio nuts
HOW TO PREPARE
Jazar Halwa
with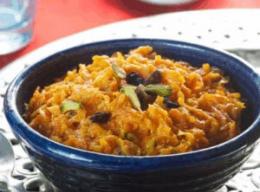 1
Add the carrots to the milk in a deep pan and bring to a boil.
2
Cook on a slow flame, while stirring occasionally, till milk dries up.
3
Add the NESTLE Sweetened Condensed Milk, mix well and cook on a slow flame till the mixture becomes dry, stirring occasionally.
4
Add the ghee, mix well and cook for another 10 minutes.
5
Garnish with nuts, raisins and serve hot.
NUTRITIONAL INFORMATION
Jazar Halwa
with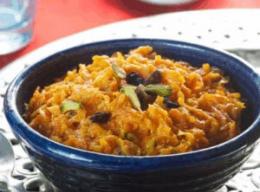 Energy

336 (Kcal)

Protein

8.3 (g)

Total Fat

14 (g)
REVIEWS
Jazar Halwa
with