INGREDIENTS
Roasted Chicken with Oriental Rice
with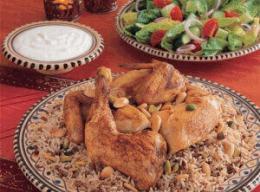 NUTRITIONAL INFORMATION
Roasted Chicken with Oriental Rice
with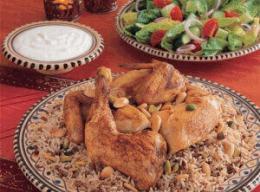 Energy

782 (Kcal)

Protein

43 (g)

Carbohydrate

61 (g)

Total Fat

39 (g)
HOW TO PREPARE
Roasted Chicken with Oriental Rice
with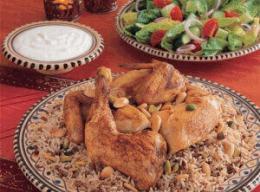 1
Roast the chicken in a 200°C preheated oven for 45-50 minutes or until chicken is cooked and golden brown in color.
2
Meanwhile, heat oil in a large saucepan, add and cook onions with occasional stirring for 4-5 minutes or until almost golden in color.
3
Add minced lamb and cook until meat is brown in color, then add spices and MAGGI Chicken Stock cubes; Stir for few seconds.
4
Add rice and stir for 2 minutes or until rice is hot then add water with constant stirring until it boils, then cover and simmer over low heat for 20-25 minutes or until rice is cooked.
5
Spoon the rice in a serving platter then cut the roasted chicken and arrange the chicken pieces over rice.
REVIEWS
Roasted Chicken with Oriental Rice
with